TECHNOLOGY TO MEET YOUR NEEDS
For our business customer, the State Bank of Cross Plains offers many alternatives to electronically manage your account information.
Click here to test it out yourself with our "hands-on" demo.
---
The State Bank of Cross Plains offers eCorp, a suite of products for our business customers. eCorp brings all of your account information together on one easy to use website that you can access anytime day or night.
Watch our demo below: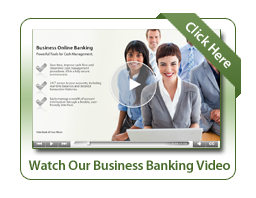 With Business Online Banking, you can save time, improve your cash flow, and streamline your cash management procedures all in a fully secure environment.
Real-time account balances
Direct deposit of payroll
ACH origination
ACH filter
Positive pay
Wire transfers
Transfer funds between acounts in real time
Bill Pay Services
If you have questions or would like to enroll, please contact your personal banker or call us at 1-855-CLOSE2U (855-256-7328)
---
ACH PROCESSING
A good alternative to writing and receiving paper checks is Automated Clearing House (ACH) transactions.
The State Bank of Cross Plains can help you set up a system to originate such transactions.
---
Keep in touch with your money 24-hours a day with our easy-to-use telephone banking service, for the ultimate in banking convenience! Click here for more information on TeleBank.
---
WIRE PROCESSING
Wire Transfers are a safe and efficient way to transfer funds from one institution to another for credit to a customer on the institution's account.
Wires can be sent to any bank in the United States or Foreign country.
Wires sent within the U.S. are normally credited same day.
Wires are immediately available and are guaranteed funds.
---
FRAUD CONTROL
ACH FILTER - Protect your account from unwanted ACH debits
ACH filter allows you to authorize only specific pre-authorized entries to post to your account. When the system detects ACH activity that is not allowed it will generate an email alerting you to the possible fraud.
POSITIVE PAY - One of the most powerful tools you can use to protect your company against check fraud.
When you issue a batch of checks through your accounting program, each check has a certain profile - the date, the amount, the payee, and the account on which the check is drawn. Those records are exported from your accounting program, and imported to the Positive Pay system.

As those checks are deposited and reach us for posting, we compared the details of the check to the details you provided when it was issued.

If differences or discrepancies are found, the check is flagged, and placed in the Positive Pay "Exception" list for you to review.

You can then determine whether the check should be paid or rejected.
Click here to learn more about Positive Pay